Dr. Bedlack, his reputation 

& 

ALS Untangled



Dr. Bedlack
After Mr. Valor`s untrue "SCAM" allegation, the principal of ALS Untangled, Dr. Richard Bedlack, was immediately provided with a dossier of confidential files covering years of pre clinical and clinical data (including an study demonstrating life extension in transgenic mice undertaken by a premier laboratory in the USA, and 19 consecutive clinical patient charts to demonstrate that we did not randomly select the best results for him).

These prove that the allegations are wholly untrue.
​
Dr. Bedlack subsequently discussed or shared some or all of the confidential matter with at least one third party. This is most unprofessional.
Mr. Valor stated: ​

"the proof sent to Bedlack was a scattered and very sparse collection of tidbits which were interesting" 
​and:

"AFTER I published my blog post, I discussed the matter with Dr. Bedlack"
and: 
"At the end of our discussion he (Dr. Bedlack) did ask if it would be easier to drop that word. I said because of the obstinance of the owner

 and disciples that I will be keeping it until the requested information is delivered."

​Numerous formal complaints by PALS about the conduct of Dr. Bedlack in this matter have since been filed with his licencing authority,
The North Carolina Medical Board.

Notwithstanding the fact that Dr. Bedlack has privately admitted in writing that the statements made by his investigator are likely untrue, he has been asked to, and has repeatedly refused, to publicly state this. He is guilty of concealment.  

1/ To do so may call into question his judgement in using the services of Mr. Valor who remained a member of ALS Untangled.
2/ He would also wish protect his professional reputation and that of his ALS Untangled investigators.
3/ From the drug efficacy data he has been provided with, he knows what the consequences may be for PALS who will be deprived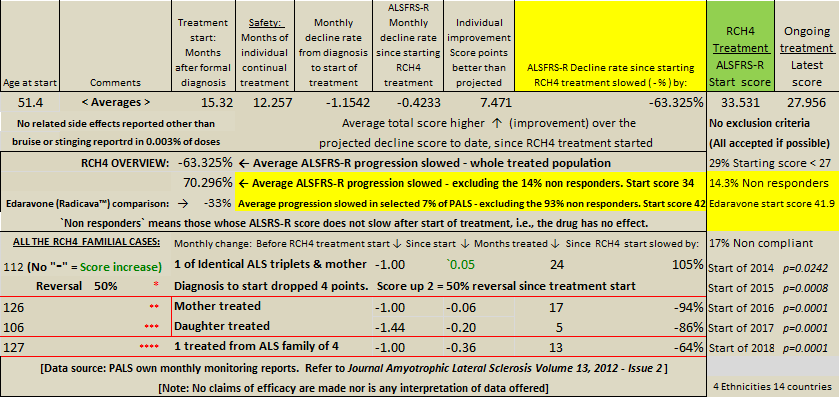 The stance of Dr. Bedlack was that the collapse of this charity had dnothing to do with him and he could do nothing about it.
​
He certainly could have. He stood by and said nothing as the charity lost its supporters due to "SCAM" allegations and collapsed.
​He was provided with the requisite documentary evidence proving that his Mr. Valor was untruthful and repeatedly refused to say so. He was not asked to comment on the safety, efficacy, or otherwise of RCH4.
While knowing that the allegations were untrue he still declined to say so in public. His position:

"It has nothing to do with me"
"I never said anything about RCH4"
"I am not responsible for Valor"

This is disingenuous, unprofessional, unacceptable behaviour. An astonishing stance for Dr. Bedlack, a respected advocate for PALS.
​
Concealment of information material to patients interests is a serious breach of acceptable professional conduct and a matter for the attention of The North Carolina Medical Board who granted his licence to practice medicine (Licence No. 200000183). 

​                                                                                        -----------------------------------------------------------------


Mr. Eric Valor​​


​Dr. Bedlack appointed a Mr. Valor as the Lead Investigator for our drug RCH4 which has been in use worldwide for years.

Mr. Valor had already published untrue, wholly unfounded, and malicious falsehoods about us on the Internet and on his own web site.
Dr. Bedlack was aware of this before he appointed Mr. Valor Lead Investigator into our drug RCH4 for ALS Untangled.
Mr. Valor stated (see above): "AFTER I published my blog post, I discussed the matter with Dr. Bedlack" 
ALS Untangled has no right to, or demand, such information from a privately funded volunteer humanitarian charity who has never asked PALS or the public for money at any time for a drug for which the clinical evidence may indicate efficacy better than anything seen before in ALS.
Mr. Valor stated that unless he was provided with financial and scientific information on the molecule, his untrue public allegations of criminality would remain on the Internet. That is extortion.
Such conduct is unacceptable.

Mr Valor has removed from his site many requests from PALS, and independent parties, asking him to withdraw his untrue allegations.
 
He has published libellous & malicious falsehoods and made uninformed allegations, including that of criminality. These allegations are untrue. Sadly, the man is a quadriplegic, has no scientific or medical qualifications and has no experience whatever in professional drug development despite his claims. Notwithstanding the fact that this drug has been around the world for some years, in April 2016 he published "SCAM" within hours of learning of its existence. He failed to do any research whatever. He never even contacted us prior to publishing his sensational headline:  

Breaking news !  NEW-DRUG - NEW-SCAM
​​
We pointed out to Dr. Bedlack that this headline was a libelous statement. Then Mr. Valor added a question mark (
?
) after the word "SCAM" to convert it into a question instead of a statement. We have screen shots of this to prove it. This could indicate collusion between Dr. Bedlack and Mr. Valor.
There is an important legal difference. One is an untrue statement, the other, an opinion. Either way, the result for this charity is disasterous.
Although he changes and modifies his web site to suit his own ends, Mr. Valor has refused to remove his malicious postings even after numerous requests from independent parties, in addition to PALS who have been on the drug for periods varying from months to years.
In response, he added yet another page to his web site: 
http://www.ericvalor.org/als-new-drug-old-scam/
We required the written agreement of a PALS Neurologist or doctor before we could consider supplying RCH4. This is mandated by law. No clinician would now agree to allow their patient to use RCH4 after seeing ALS Untangled Lead Investigators word "SCAM" on the Internet. Naturally, they assume he is a medically qualified person.
Example:  
 http://www.alstdi.org/forum/yaf_postst55539_a-new-drug-has-been-stopped-by-als-untangled.aspx 
Whereas Mr. Valor claims to be an expert in everything, in fact he is not a tutored person. It is most surprising that Dr. Bedlack, the principal of ALS Untangled, appointed Mr. Valor to be the ALS Untangled Lead Investigator.
Due to Mr. Valors untrue statements, we have been condemned by PALS on the Internet for not publishing scientific and clinical data. Between 2010 and 2012 we offered the complete and comprehensive package of research data, clinical data and scientific rationale to the charity funded ALS research community for free as a humanitarian gift. We have never made any claims of efficacy, nor have ever offered any interpretatation of data. Scientific presentations were made in person to many entities, including Dr. Lucie Bruijn, the Chief Scientist of the ALS Association. It was also brought to the attention of others, including Dr. Belinda Cupid Head of Research at the MND Association. They were not interested.

Our papers submitted for oral presentation at the MND Association ALS annual world symposium were repeatedly 
REFUSED
.

​
No ALS drug has ever demonstrated such efficacy in slowing the progression.
Data early 2016: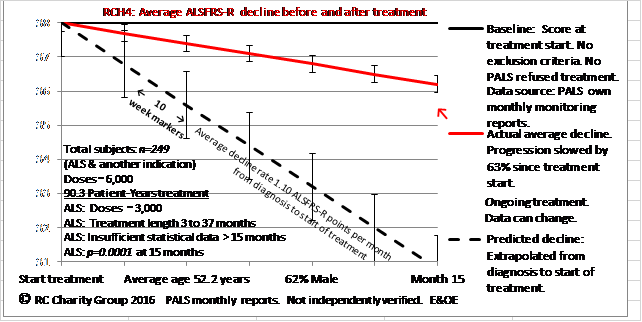 ​​Subsequently we spent our, and others, childrens inheritance on further developing the drug and supporting PALS free of charge around the world. Refer to "About us" in the menu bar above.


The private relationship between a medical charity and its patients is confidential, and external parties have no right to aggressivly demand information on such private matters. Such conduct is unethical.

Over the years we were always short of funding and could only afford to help a limited number of PALS. Thus, we always avoided publicity or recognition. We never asked for, or wished for, the attentions of ALS Untangled. Our charitable activities are a private matter between ourselves and the PALS we help free of charge. ALS Untangled has no right to investigate private matters unless invited to do so.
All our PALS friends are subject to a confidentiality contract and we trust that they will not engage with ALS untangled.
Due to the malicious untruths posted on the Internet by the ALS Untangled Lead Investigator Mr. Eric Valor and his many followers, this research charity has been forced to discontinue its humanitarian undertaking after years of supporting PALS free of charge. Due to the avalanche of vitriolic hate mail, the public criticism made in ignorance levelled at us by the ALS Community and the consequent collapse of charitable funding, we will no longer have the resources to provide PALS with the first drug to indicate efficacy in ALS.


Publication of data
​
After spending years of our lives and immense amounts of money on research and supporting PALS, without any help from the ALS funding entities who have repeatedly refused us, we are certainly not now going to give it all away to people who are now curious and wish to copy our work. As there was no taxpayer or public purse funding, all information is private property.
​Before, the ALS community did not want our data.  Now it is far too late to complain that we are not sharing information.
Developing a drug costs many millions. Those who now say there is a moral duty to share information, choose to ignore that fact.


The ALS Untangled "Scam" allegation has caused our charitable support to be lost, and this ALS drug RCH4 to be denied to future PALS.

It is hoped that this sad episode will serve as a demonstration of the catastrophic damage to innocent parties that malicious, ignorant and vindictive persons can achieve on the Internet.​​